One-on-one Training
One-on-one Training with a CNC Expert.  We match you with a specialist in what you need to learn.
Purchase a bucket of hours (2 hour min.) to schedule one-on-one time with an expert.
Learn More
Mastercam 3D Programming Gap settings webinar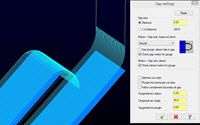 Featured Courses
WHAT DO YOU WANT TO LEARN?
Testimonials
Gotta say WOW
I have been surfing the videos at Eapprentice.net... and I gotta say WOW.  This is definitely what I needed; video training tutorials.  One thing I noticed is I always look at a video for one area of a solution but I learn 6 other very simple things related that I...
Learning so Much
I am really enjoying viewing your videos. I am learning so much. I have a son-in-law and a several friends I am going to recommend to your web site.
Absolutely Fantastic
Just to let you know I have been using your site for a few days now and it's absolutely fantastic, extremely helpful and professional.  I will certainly inform my colleagues.  It's way better than the Mastercam forum.
Impressed my Employer
I received my Certificate of Completion on another site, but did not receive a promotion. After becoming a member of eapprentice, I refreshed my skills and learned tips on Solid Modeling and Multi-Axis Machining. This impressed my employer and helped achieve the advancement I have been looking for.
Self Taught on SolidWorks
I just paused at 6 minutes into the second "Mastercam for SolidWorks" video to say THANK YOU! ...I am self taught on SW and have been making money designing parts for over a year...I NEVER KNEW I could double click to release pencil. 4000 times I have escaped and re-selected....
Awesome for the Beginner
I'm 47 years old, never thought I would catch on this quick.  This is awesome for the beginner. I strongly recommend that u give it a try.  My thanks to the instructional videos.
It Is all About Practice
I found it so helpful that I could go back and look at the tutorials to thoroughly understand the procedures. It is all about practice, and your program offers that opportunity. I have already boasted about your course to two other machinist friends and sent them links to your site... so you may have...
All the Ideas...
Enjoyed class last night but made it hard to get to sleep with all the ideas on how to use the new info.
Right Website to Improve My Skill
I m very pleased with the class. My next class should be the Multiaxis and 3D even though I am using MX every day, but I'm sure there are things I'm missing.  I m glad I found the right website to improve my skill.
This Class Fills in the Blanks
The class is great, I have been messing with posts for years but haven't ever had a full grasp on how it all really works together (was mostly trial and error until I got the output I wanted). This class is what I was looking for to fill in the...
Live X6 Course is Great
The X5 class is is very good, and has helped me.  The X6 class is great.  Being live, it gives you a chance to ask questions as they arise.  This is very helpful... I have always wanted a class where the "buttons" are explained as you go..this is as close...
Great to See Features Explained in Detail
I just completed the Beginning Mastercam Course and even though I have been using Mastercam for almost 6 years I still learned a lot of valuable information with this course. Being self-taught I learned to figure things out for myself. But there are many features I haven't used because it...
More Information on Courses